Parts
Ingersoll Rand and Worthington Pumps and Replacement Parts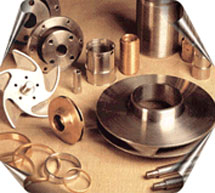 National Pump and Process is a premier provider of replacement parts for your Ingersoll Rand and Worthington Pumps. We can provide parts for most obsolete models as well as remanufacture complete pumps and pump assemblies from new and used surplus models.

Typical Ingersoll Rand

Aldrich
Plunger Piston Pumps
HC
General Water Service
HOC
ANSI Pump Designs
GT
High Pressure 2 Stage
GTB
High Pressure 2 Stage
CNTA
High Pressure HD Multistage Diffuser
HMTA
High Pressure HD Multistage Diffuser
DA
High Pressure HD Multistage Volute
VHTB
High Pressure Vertical Multistage
LPO
Paper Stock - Solids Handling
ALV
High Flow Horizontal Split Case
S-Line
General Service Horizontal Split Case
A-Line
API-610

Typical Worthington

D1000
ANSI Design/Process Pumps 
D500, D800
General Water Service Pumps
LLR
2 Stage Horizontal Split Case
UNB
2 Stage High Pressure/Process
UNQ
4 Stage High Pressure/Process
L, LN, LR
Double Suction Horizontal Split Case
QL
Double Suction Vertical
VTP
6"-40" Vertical Turbines
GA, GR, GRW
Gear Pumps
GEAREX
Gear Pump
SIER BATH
Rotary Screw Pumps
R, M, MJ
Rubber Lined / Hard Metal Slurry
FR, FRB, FRBH
Paper Stock - Solids Handling
If you have any obsolete I-R or Worthington pump, simply click here and submit your request for parts quotation on any model.